Uruguay Client Order Flat Die Feed Pellet Mill
Uruguay client ordered 4 flat die feed pellet mill in October 2017. Respectively, ZLSP-D 300 flat die feed pellet mill and ZLSP-D 150

flat die

feed pellet mill.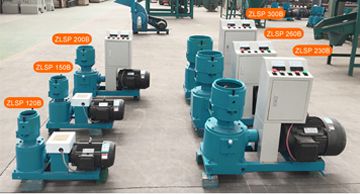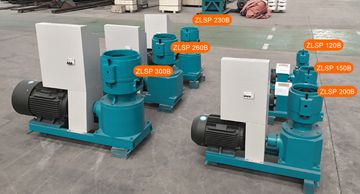 The following is part of our process of answering customer questions about purchase feed pellet mill.
I am interested in pellet mill for animal feed, please send me price and especifiction, 800kg/h aprox. Electric. Material is oybean , corn, sorgum all mill. If you have diferent option thanks.
What is the humidity that the material must have. For moisture content of raw material, usually 14%-20% is recommended.
For size of raw material for pelletizing, 3-5mm will be better. So for soybean, corn, sorgum, we also supply crusher if needed.
For catalog of feed flat die pellet mill, please kindly check it in the attachment.
---
Tell me the price for 500 kg/h and 800 kg/h. Can the flat die feed pellet machine work for 6 or 8 hour continuos?
For 500 kg/h for making animal feed pellets, flat die ZLSP-400C D-Type with 400-600 kg/h will be ok.
For 800 kg/h for making animal feed pellets, flat die ZLSP-300B D-Type with 600-800 kg/h will be ok.
Yes, the flat die pellet machines can work for 6 or 8 hour continuous, and please kindly add lubricating oil each 4 hours. That will be better.
---
We offer machines for animals feed. We are reseller. Have you sell your machines in Uruguay. Can you send me a catalog so as to give to my client. And send me a video. The cost of the spare parts please send them also.
Yes, the machines have been exported to Uruguay, and also other countries. Here I send you some pictures about the delivery of pellet machines to other agents. Please kindly check the attachment.
We have engaged in this line for more than 10 years, and the quality and business reputation are ensured.
Then are you interested in reselling pellet machines, please? If yes, we will be very honored and glad. And for agent, we have special agent prices.
So for 500kg/hr or 800kg/hr, flat die pellet mill is ok, and the made feed pellets can meet the requirements for animals. What's more, such equipments need lower investment than ring die.
---
I think I will buy a pellet mill and a crusher with the mixer so as to rest them here. I would like a 500kg/h please send me PI and the two diferent dies. Which is the diameters Of the pellets send me two options .
For pellet mill, it usually is installed with one die in the machine before delivery. So if you need two different dies, you just should kindly buy one extra.
For animals, usually 4mm and 6mm are chosen, so are they ok for you, please? And for ZLSP-300 pellet mill, we have 2.5/3/4/5/6/8/10mm for your kind choice.
We usually do CIF and help the clients ship the machines to the ports of Uruguay directly, but we can also do FOB if needed, and then the two machines can be put in your same container. So will you kindly do FOB Qingdao, please?
If convenient, could you kindly send me your company information (company name, address, tel, etc), then I will prepare the invoice and send you.
If you have any questions about flat die feed pellet mill, please

contact us!
Get In Touch
We receive enquiries in
English, Español (Spanish), Русский язык (Russian), Français (French) and العربية (Arabic)
. Our professional team will reply to you within one business day. Please feel FREE to contact us!