Recycled Wood Shavings Briquetting Machine Turning Waste into Treasure
Recycled Wood Shavings Briquetting Machine
At present, nobody should produce waste for the simple ecological, economic and moral factors. However, with increasing use of wood for building, extension and garden making, the wood waste is still increasing. Generally, this wood waste is sent to the dustbin or burnt directly and ineffectively.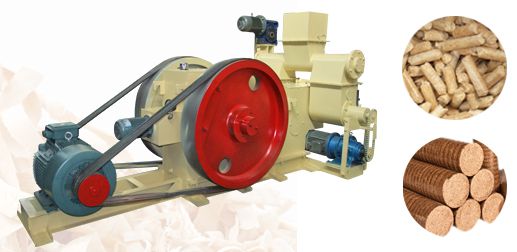 Click for Briquetting Machine Technical Parameters
While when we have started to pay more attention to the environment and economy, efficient recycled wood shavings technology becomes an urgent thing. As a green energy manufacturing machine, our
briquetting machine
is easy to produce the recycled wood shavings into green fuel briquette with high combustion value and no with bad smoke produced.
Turning Waste into Treasure
The recycled wood shavings briquetting machine is newly designed and developed to turning the wood waste into useful fuel for use, is suitable for home use, commercial use and invest use, easy to help you to get more benefits.
As we mention above, the recycled wood shavings is commonly burnt directly or sent to dustbin, this phenomenon is widely happened in the countryside where is plenty of wood waste including the wood shavings.
With recycled wood shavings briquetting machine helped, the recycled wood residues can be easily produced into useful briquette fuel for daily use, not only saving the recycled wood shavings treatment cost, but also producing fuel briquette with higher combustion value than direct burning, further reducing the fuel cost.
When you recycle plenty of wood residues, you can total produce the briquette for sale. After all the recycled wood shavings is very common, we can see the wood residues here and there, like the open place in countryside, tree farm, wood processing factory etc.
With the punching type briquetting machine, you can produce pellet and briquette both, suitable for various stove size.

Briquetting technology is born in this right era when there is environment problem is increasingly getting worse, the worse environment caused more and more concurrency problems, while the briquetting technology can solve these problems, meeting the requirement of sustainable development. At the same time, the governments support the development of this technology, by giving subsidies to the relative enterprises and investors. All this indicates the bright future of briquetting technology, so does our recycled wood shavings briquetting machine.
Welcome to ABC Machinery
ABC Machinery is mainly engaged in deliver technology, engineering and service of biomass densification.
As the pioneer enterprise of the biomass energy equipment manufacturing filed in China, ABC Machinery possesses over 20 years of experiences in manufacturing,
selling and building briquetting machine and briquette production line
, with the equipment sold to over 50 countries and areas, getting high praise from the clients.
If you have any idea about this recycled wood shavings briquetting machine or other information about biomass energy equipment, please contact us for more detailed information, we will offer you the best professional service.
Get In Touch
We receive enquiries in
English, Español (Spanish), Русский язык (Russian), Français (French) and العربية (Arabic)
. Our professional team will reply to you within one business day. Please feel FREE to contact us!