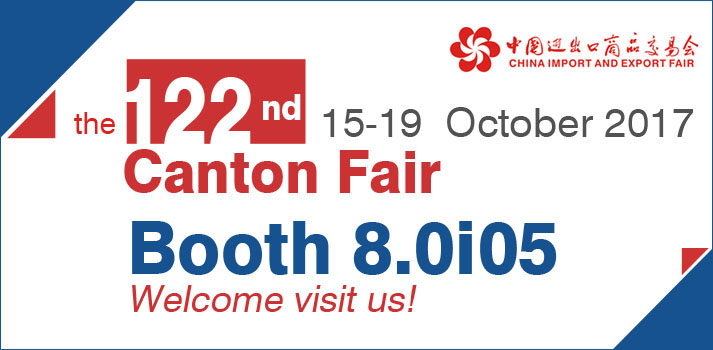 ZLSP200B R-type Electric Pellet Mill
MPL300 Biomass Mobile Pellet Plant
Large Ring Die Wood Pellet Mill
D-type ZLSP200B Small Pellet Mill
Screw Biomass Briquetting Machine
Hydraulic Wood Briquette Machine


Customize Your Feed Mill Plant for Poultry

How to Choose Animal Feed Pellet Machine

2TPH Biomass Pelletizing Plant for Indonesia Client
Projects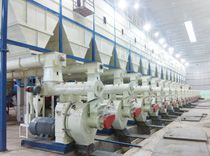 20TPH Wood Pellet Plant in Vietnam
TEL:
+86-372-5965148
FAX:
+86-372-5951936
E-MAIL:
info@gemco-energy.com
ADD:
19F, Suite B, Global Trade Mansion, Wenfeng Avenue, Anyang, Henan, P.R.C
Briquette Machine for Coffee Grounds Making Economic Fuels
Coffee Grounds to Biomass Fuel?
Among the world, there are over 80 countries growing coffee which is the second largest commodity on the global market; the
coffee husks after harvest is usually made into fuel pellets
, but few people notice the coffee grounds left in the coffee making. It is researched that there is 1/3 people drink coffee every day around the world, the coffee grounds quantity is much more. Coffee grounds is produced from the processing of coffee brewing, which usually discarded and sent to landfills.

(
Coffee grounds turn to biomass fuel pellets and briquettes
)
With the development of technology, it is confirmed that coffee grounds possesses with lignin, hemicellulose, cellulose, fatty acid and other polysaccharides, giving people a lot of opportunity to make them into biofuel. Also, the
coffee grounds has a small size and low moisture content, easy to be pressed into briquettes fuel
. Most importantly, coffee grounds gives high calorific value and good thermal efficiency, but leaving low ash content.
Briquette Machine for Coffee Grounds on Sale
Briquette machine for coffee grounds is called coffee grounds briquette machine, briquetting machine for coffee grounds, coffee grounds briquette making machine etc, is specially designed and developed for producing the coffee grounds into useful briquette fuel used for daily energy resource. Our briquette machine for coffee for hot sale have two types, including punching type and screw type according to the different working principles.


(Click to acquisition detailed parameters about punching type briquette press)
Punching briquette machine is mainly composed of main briquette machine, feeder, electric control cabinet. Adopting mechanical punching force on the coffee grounds, it can form the graininess coffee grounds into high density cylindrical briquette. based on the advanced technology from the abroad, this type coffee grounds briquette machine integrates pelleting and briquetting. The final product can be briquettes with the diameter in 30-70mm, also pellet with the diameter in 8-22mm. what you need to do is replacing the pelleting die that you want.


(Click to acquisition detailed parameters about screw type briquetting press)
Different from the punching type, screw briquette machine for coffee grounds adopts the working principle of screw, using the screw to push the raw materials into the forming sleeve. Thus the final briquette produced by the screw type is with cylindrical or hollow centers. And due to the high temperature inside of the machine, the final product is with carbonizing surface, which is easy to be made into charcoal.

How to Make Fuel with Briquette Machine for Coffee Grounds?
Speaking of making coffee grounds briquette, choosing suitable type is most important. When you decide to purchasing a coffee grounds briquette machine, you should choose the type according to your requirements and actual condition as this machine can be not only used singly but also used in the production line.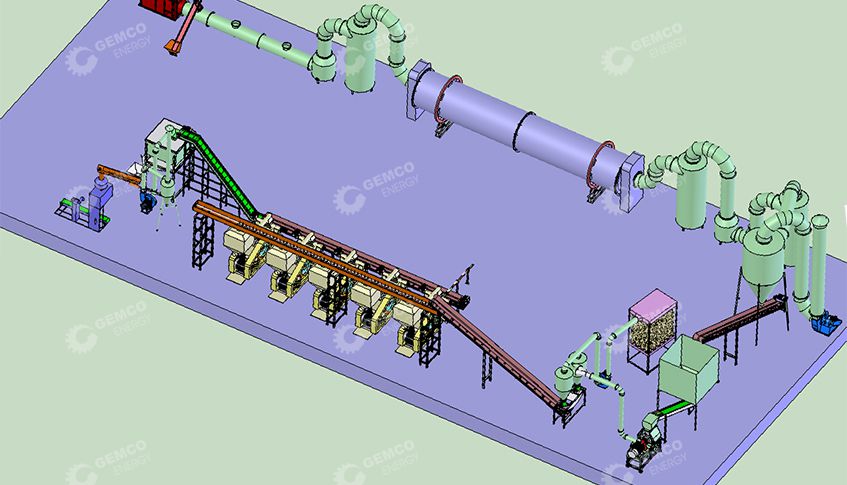 (How to set up a briquette production line>>)
When you use the briquette machine singly, you need to do some preparation. Do to the strict requirements of briquetting, you should keep the moisture content and size of the coffee grounds in the required level. The moisture content should be in 12%-14%, and the size should be less than 3mm. the coffee grounds is generally in granule, so you only adjust the moisture content of the coffee grounds. Then you can start to produce your coffee briquettes fuel.
The coffee grounds briquette production line is composed of different steps of equipments, including crusher/hammer mill, dryer, briquette machine, cooler, packager and the conveyor connecting each step. If necessary, carbonization device like carbonization furnace is needed to equip for carbonizing the coffee grounds briquettes into charcoal. Considering the actual condition, the equipments included in the production line are not necessary all, we can customize the production line based on your actual condition.
If you have any question about the briquette machine for coffee grounds, please contact us for more information.
Other Products You May Need