Cost-effective Biomass Briquette Machine for Sales - 3 Types
According to the composition, the energy content of biomass briquettes range from about 4.48 to 5.95 kJ/g, while, the energy content of sawdust, charcoal and wood pellets range from 7.24 to 8.25 kJ/g. Studies showed that the shape and the caloric content of biomass briquettes allows optimal burning efficiency. Hollow cylinder briquettes exhibits energy output comparable to that of conventional fuels, but it doesn't pollute the environment and can be easily got at low cost.


Biomass Briquettes Shapes
In the developing countries in Africa, Asia and South America, biomass briquettes that are made from wood, sawdust, agricultural waste are currently a good substitute for firewood and charcoal. (Recent Project: Biomass Briquette Plant Setup in Thailand >>)
3 Types of Biomass Briquette Machine for Sales
Biomass briquette machine refers to the biomass fuel machinery that makes briquettes from biomass waste. They have been utilized around the globe for years because of their irreplaceable advantages. GEMCO, the leading biomass machinery manufacturer and supplier, provides 3 types of briquetting machines to meet different requirements for biomass briquettes production. All of them are widely used and popular because of their unique characteristics and usages. (Related Post: GEMCO Pellet Mill for Sale >>)
What Biomass Waste Can be Processed into Briquettes?
There are many biomass waste can be processed into biomass briquettes by our briquette making machines, such as wood chips, sawdust, sugarcane bagasse, cotton stalks, rice husk, coffee husk, wheat straw, palm husk, sunflower seeds hull, paddy straw, coir pitch, etc.. If you want to know whether your materials suitable for briquetting or not, please just contact us to ask for samples or test for you!


Biomass Waste for Briquettes Making

Mechanical Stamping Biomass Briquette Machine - GC-MBP Series
The mechanical stamping biomass briquette machine is popular because of its multi-functions: it can produce 8/10mm diameter biomass pellets as well as 22/30/70mm diameter round biomass briquettes! It is a very good help for farmers since it can turn the crop waste into valuable fuel briquettes. It is also a good choice for biomass briquetting plant and biomass briquettes production business. With this mechanical stamping briquette machine, you won't worry about your energy bill anymore! (Latest News: Punching Briquetting Equipment to Make Peanut Shull Briquettes in India >>)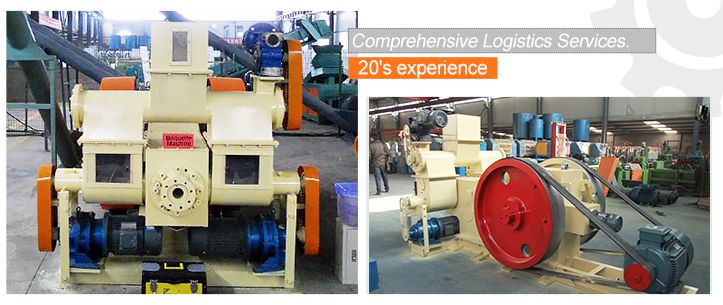 Factory Price Biomass Briquette Press Machine
Mechanical Briquette Press Technical Data
Model
GC-MBP1000
GC-MBP2000
Capacity
0.8~1.2T/Hr
1.5~2.5T/Hr
Main Power
45KW
96KW
Size of Final Briquettes
8,10,22,30,75mm
22,38,50,90,100mm
Density of Final Briquettes
1000~1300kg/m3
1000~1300kg/m3
Weight
7000KG
14000KG
Overall Dimension
Machine: 3400*2000*1800mm
Machine: 3800*1800*2300mm
Cabinet: 1200*600*1200mm
Cabinet: 1200*600*1200mm

Screw Press Briquette Machine - GCBC Series
The screw type biomass briquette machine is usually used to produce briquettes with a hole in the center, so that they can have larger contact with air and will be more fully combusted. This machine is also the key component in making charcoal briquettes, especially the BBQ charcoal. When made into charcoal, the briquettes become lighter and no ash. So these briquettes are often sold in supermarkets and welcomed by people.(Related Post: 1TPH Screw Wood Briquetting Line in Pakista >>)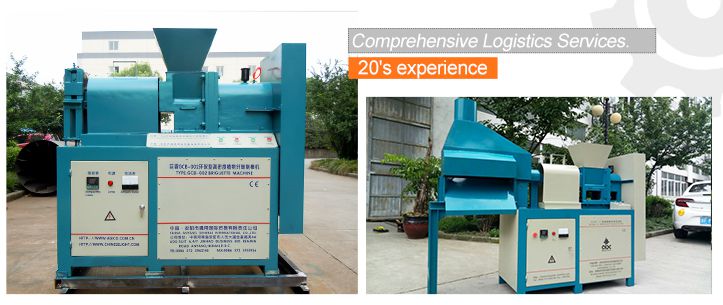 Screw Press Briquette Machine for Sales
But, for making charcoal briquettes, a carbonization furnace is indispensible since it can turn biomass briquettes into high value charcoal briquettes. (Related Post: How to Make Charcoal Briquettes?)

Charcoal Briquette Making Plant
Factory Price Screw Briquette Press for Sales
| Model | GCBC-I | GCBC-II | GCBC-IIA |
| --- | --- | --- | --- |
| Capacity | 180~250KG/Hr | 300~350KG/Hr | 250~300KG/Hr |
| Main Power | 15KW | 18.5KW | 18.5KW |
| Size of Final Briquettes | 50*50mm*L480mm | 60*60mm*L500mm | 50*50mm*L480mm |
| Size of Briquette Inside Hole | Dia.16mm | Dia.18mm | Dia.16mm |
| Density of Final Briquettes | 1.3ton/m3 | 1.3ton/m3 | 1.3ton/m3 |
| Weight | 800KG | 1000KG | 700KG |
| Dimension | 2700*600*1600mm | 2700*600*1600mm | 2600*600*1600mm |

BEST Selling Briquettes Making Machine Working Efficiently
Buy High Quality 3 Types of Briquettes Making Machine for Biomass Briquettes Making: HOT sale briquette making machines offered by biomass briquette machine manufacturer or supplier, guide on process of briqutting and how to start biomass briquettes making business with limited cost in Tanzania, Egypt, Morocco, Ghana,South Korea, etc.
Screw Briquette Machine - GCBA Series
GCBA series briquette machine is also a type of screw briquette press that is widely used by farmers, small scale briquette production line. It is designed with automatic temperature control system for easy operation and can be used to process high density woods into biomass briquette fuel. The briquettes it produced is hollow hexagonal or quadrangular cylinder that is carbonization on its outside, so its higher combustion rate.
Mini/Small Screw Briquette Making Machine Parameters
| Model | GCBA-I | GCBA-I |
| --- | --- | --- |
| Capacity | 180~210KG/H | 300~350KG/H |
| Main Power | 15KW | 22KW |
| Electric Heater Power | 5KW | 5KW |
| Size of Final Briquettes | Dia.50mm | Dia.50/60mm |
| Size of Briquette Inside Hole | Dia.16mm | Dia.16/18mm |
| Density of Briquettes | 1.3ton/m3 | 1.3ton/m3 |
| Weight | 560KG | 780KG |
| Overall Dimension | 1600*1000*1000mm | 1500*1200*1600mm |

Having learnt from the above, we can come to a conclusion that these 3 types of biomass briquette machines are different from each other, and they all have their own advantages. You can choose one based on your actual needs! We can totally guarantee its price and quality. Any questions, just contact us without hesitation!
Setup Your Biomass Briquettes Production Plant at Low Cost
We boast strong capacity to help you set up complete biomass briquette plant to produce high quality biomass briquettes for commercial or individual purpose. We can provide the auxiliary equipment of the biomass briquette production line, but also have experienced engineers to take in charge of equipment installation and commissiong. Choosing us, you can save a lot of investment cost. We have built a lot of briquetting plant projects around the world, including Russia, Thailand, Pilippines, Pakistan, Indonesia, Malawi, Australia, Canada, etc. Just tell us your needs, we can quickly offer you the customized plan and FREE quotation!
Get In Touch
We receive enquiries in
English, Español (Spanish), Русский язык (Russian), Français (French) and العربية (Arabic)
. Our professional team will reply to you within one business day. Please feel FREE to contact us!